Star Wars: The New Yoda Chronicles -On DVD September 15th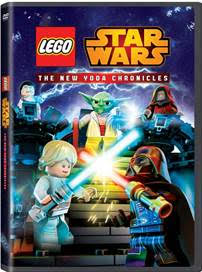 Your favorite Star Wars heroes are back with four complete episodes (plus a bonus alternate ending!) that unleash the lighter side of the Force. After headstrong Luke nearly delivers the good guys into Palpatine's clutches, Master Yoda and the ghost of Obi-Wan Kenobi unearth the Holocrons – last remnants of the secrets of the Jedi – to further Luke's training. But Darth Vader also seeks the Holocrons, and he'll stop at nothing to get to them first! Meanwhile, courageous superclone Jek-14, a Force-sensitive clone, comes out of retirement to help bolster the Rebels.  Share all the action-packed thrills of these interlocking, intergalactic adventures in LEGO® STAR WARS: The New Yoda Chronicles! 
Giveaway: Two 3decades3kids readers will win a copy of Star Wars: The New Yoda Chronicles!!! So excited for two Star Wars fans! The prize will be delivered through the mail/dvd. Giveaway ends on Friday, September 18th at 11:59pm and notified Saturday Sept. 19th. Winner has 48 hours to respond and claim prize. ( USA only).
Disclosure: Diane Sullivan is a Disney Movies partner blog. All thoughts are my own and completely honest. We love Disney and love to share all updates and giveaways with you. No compensation was given for this post. A  Contact me at Diane@3decades3kids.net and @3decades3kids everywhere else.