TNT Mystery Movie Night Premiered
and Continues for 4 Weeks!
Although I have only recently become a fan of mystery, thanks to being swept away by six incredible authors at the

TNT Mystery Night movie event in NYC

, I had to tune in last night for the kick off to watch

Scott Turow

's INNOCENT. I am not fibbing when I tell you that I was pretty much glued to the TV. I must secretly BE a huge mystery fan and do not even know it!
During the recent event I was lucky enough to get a sneak peek at the first 20 minutes of INNOCENT and I knew right then I had to see the rest.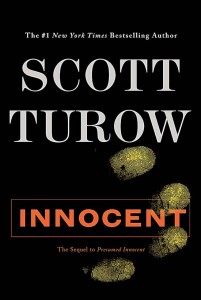 Scott Turow's INNOCENT is the sequel to Scott Turow's book, Presumed Innocent released in 1987, where Rusty Sabich, a well known prosecutor is accused of the murder of his colleague, whom he had an affair with.
In last night's INNOCENT, Judge Rusty Sabich(Bill Pullman), once again is faced with being accused with murder. This time he wakes up in bed next to his wife(Marcia Gay Harding) who is dead. Rusty does not have a clean track record when it comes to affairs. When his wife, who suffers from depression, comes across evidence of an affair she suspects Rusty is involved in, things go downhill. Rusty stands trial for the murder. Meanwhile he is faced with losing a relationship with his son that means the world to him. Without giving too much away, Rusty's son becomes involved with his dad's past mistress. I honestly enjoyed INNOCENT and of course now
I have to go read the book!
There are encore performances of INNOCENT in the coming days.
The premiere of TNT Mystery Movie Night was fascinating. TNT is planning 4 weeks of Mystery!
Tonight's special feature is Sandra Brown's Ricochet
All opinions are that of Diane Sullivan/3decades3kids.