3decades3kids
A Very Furry Christmas at Sesame Place
and Ticket Giveaway
Open Now through Dec. 31st!
Ho! Ho! Ho! It's hard to believe that Christmas is around the corner. We have found a place where Christmas is in full swing! You don't even have to go all the way to the North Pole to see Santa. Right at Sesame Place you can find a wonderful one of a kind celebration on. A Very Furry Christmas at Sesame Place is in full swing! Enjoy all your favorite Sesame Street characters as they parade down Sesame Street in their holiday best! Although the water rides are not available, there is more than plenty. All the non-water rides are opening and decorated for the season. There are also day and evening parades, and three new holiday shows! Dine With Me is also a great choice, where you can feast on Holiday foods and meet your favorite characters and even Santa. If your not in the mood for that, there are other eateries open and also a real treat of having hot cocoa and kettle corn right on Sesame Street!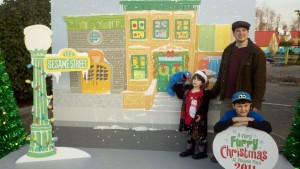 My family and I had the pleasure of being guests of Sesame Place for opening day or A Very Furry Christmas. We have been to the park many many times, but have never seen it like this. Seeing the Sesame Place sign as we pulled up all decked out and surrounded by lit up Christmas trees in primary colors, we knew we were in for a real treat! But, we had no idea just how wonderful our day would be. The first thing we spotted as we walked through the gates was a 25 foot decorated and lit Christmas tree. Wow! As we came to find out late in the evening, the tree is not only, it tells a story in sync with light motion and music, 1-2-3 Christmas Tree Show. How beautiful!
We continued down Sesame Street and just had to stop and take in all the Christmas beauty. The park really outdid itself in holiday beauty and it transformed into wonderment as the evening approached.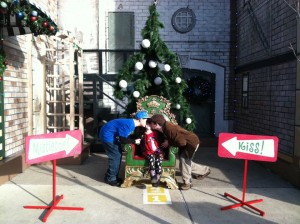 Under the Mistletoe with little sister. lol
We couldn't help but grab some hot coca and a bag of Best Darn Kettle Corn. Our first stop was one of the three new holiday shows, we did see all 3 by the end of the night. My family loves the shows and each one was unique, but just as fun and filled with holiday cheer!
In between Elmo's Cloud Chaser and The Flyin' Fish we caught the afternoon Neighborhood Street Party Christmas Parade and could not help but sing and dance along to the Christmas edition of the parade. We also peeked at the night version of the same parade. It was even better at night, surrounded my lights!
For an up close character encounter, we made reservations at Dine With Me.
Of course, one of the highlights of our trip was a visit to The North Pole, where elves were waiting outside to greet us and give the children a paper and crayon to write their very own list to Santa. Inside, Santa's workshop is adorned with everything you could think of that put a smile on all of our faces.
So, if you are looking for something magical to do with your children during the Christmas season, Sesame Place is a wonderful choice. It's only 90 minutes from NYC and easy to get to. The prices are extremely reasonable for this kind of fun! PS: Bring your Sesame Street shopping list, there is plenty to choose from! Check out the park operating hours here!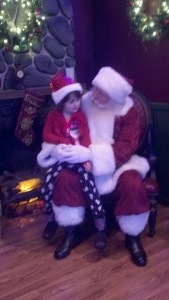 A Very Furry Christmas Admission Charges:
Single-Day Admission $19.99(plus tax)
Christmas Pass available to 2011 and 2012 season pass holders $13.99(plus tax)
Children 23 months and younger FREE
Seniors (55+) $16.99(plus tax)
GIVEAWAY:
Sesame Place has been generous enough to provide me with a Family 4 Pack of A Very Furry Christmas passes. You can enter on 3decades3kids and NewarkMacaronikid
Good Luck! Contest ends Nov. 30, 2011
Disclosure: Special thanks to Sesame Place for providing review/giveaway tickets. All opinions are that of Diane Sullivan.