Recently, I was invited by TNT to attend their TNT Mystery Movie Night event at the New York Times Center NYC. After an intimate cocktail reception, the gathering of mystery fans entered the screening auditorium to the night of their lives. Anyone who loves mysteries would have died to have been there. We were delighted to meet six mystery authors in a conversation moderated by Tina Jordan of Entertainment Weekly.
We were lucky enough to be a part of the Q&A with the authors Scott Turow(INNOCENT), Sandra Brown(Ricochet), Lisa Gardner(Hide), Richard North Patterson(Silent Witness), April Smith(Good Morning, Killer), and Carol Higgins Clark(Deck The Halls).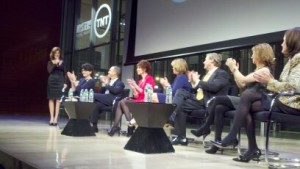 Marcia Gay Harden was also on hand to introduce us to sneak peek of Scott Turow's INNOCENT which is the first in a four week TNT Mystery Movie Night Series. INNOCENT features Scott Turow's character Rusty Sabich(Bill Pullman) as a judge who is being charged with the death of his wife(Marcia Gay Harding), 20 years after he has been cleared from the death of his mistress.
We were treated to the first 20 minutes of this made for TV movie and I must say I was very saddened when the movie was cut. I wanted MORE! I personally will be seated in front of TNT on November 29th for the premiere of Mystery Movie Night! Innocent is the sequel to Scott Turow's Presumed Innocent.
As if the evening in itself was not enough, every seat was adorned with a wonderful TNT Mystery Movie Night Swag Bag filled with goodies that every mystery fan would love. Each gift was tagged with an evidence number.
Scott Turow-INNOCENT-Nov.29th-9pm
Sandra Brown-Ricochet-Nov.30th-9pm
Lisa Gardner-Hide-Dec.6th-9pm
Richard North Patterson-Silent Witness-Dec.7th-9pm
April Smith-Good Morning,Killer Dec.13th-9pm
Mary Higgins Clark & Carol Higgins Clark-
Deck The Halls-Dec.20th-9pm
Disclosure: TNT provided me with tickets to this preview event and TNT gift bag.