SpongeBob Movie Sponge Out Of Water Premiere and New SpongeBob Toys!
SpongeBob Movie Sponge Out Of Water is now in theaters! Three words: Go See It! If you are a SpongeBob fan you are going to laugh your face off. Recently readers were able to download passes to the New York City premiere. We were invited, too! The premiere touted a yellow carpet and stars galore. As fate would have it, Emily woke up with a high fever, thankfully MommysMingle was able to walk the carpet for us. Mr. Krabs, Clancy Brown, himself was on hand with others to sign autographs and give handshakes! You can check out the movie here: http://www.spongebobmovie.com/
My daughter should have been wearing this awesome girls' Super tee and carrying Super Patrick to the premiere. Those darn germs! Well, good news, she'll be wearing it tomorrow when we see it at our favorite Times Square theater! I'm sure the SpongeBob fans in the audience will love it!
A few days before the movie premiere we were thrilled to be invited to see a sneak peek of all the new SpongeBob Movie Sponge Out of Water from Nickelodeon. There are some very awesome products that any SpongeBob fan will go crazy for. We loved the app and now have it an play it all the time. This is one of those apps where the moms are taking turns with the kids, know what I mean? Okay, so I'm totally addicted! Mega Bloks sets are awesome! There was so much to see, one product more incredible than the next. There is definitely something for everyone.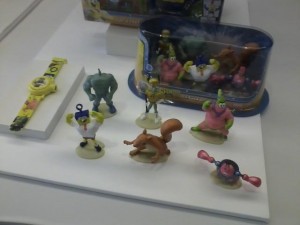 Disclosure: Media invite provided by Nickelodeon Consumer Products and The SpongeBob Movie Sponge Out of Water. All opinions are that of Diane Sullivan. Contact me at 3decades3kids@gmail.com and everywhere else at @3decades3kids.