Six Flags Great Adventure's Scariest Fright Fest in History- Thrills By Day Frights By Night!
One of our favorite Halloween hot spots in New Jersey is less than two hours from NYC, Six Flags Great Adventure in Jackson, NJ! It's great for families with children of all ages like ours. From park opening until 6pm Six Flags is scare free and filled with Halloween fun! It's a great time for the entire family to stay together and ride their favorite rides. There is also an supercute Trick-Or-Treat trail lined with characters who are friendly and ready to interact with your family.  This is for children under twelve years old. We have been taking Emm since she was two years old and there is definitely nothing frightening during the day. There are special shows and decorations that will give your kids a great Halloween feel. You can also enjoy a ton of Halloween treats like hot cocoa topped with a PeepsBrand marshmallow ghost, some Spooks and Cream Dippin Dots, Funnel Scream Cake, Ghoul Cake with worms and dirt, and more! They are definitely worth the buck to indulge in these specialty Halloween themed treats.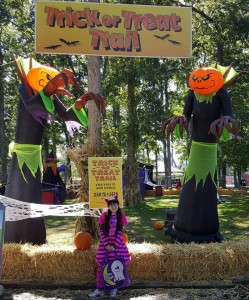 Daytime thrills are devoted to families.  We started our visit by dancing to Halloween hits at the Spooktacular Street Party! Surrounded by zombies, some 8 feet tall, we danced, sang and even conga lined in front of the main fountain!  If you go, don't forget to catch Just My Rottin' Luck magic show staring Raoul the Duke of Deception. We also enjoyed something new this year, Six Flags introduced, "The Skeletones" a ghostly and charming acapella group who performed some bad-to-the-bone harmonies at the Wilderness Theater.
Now, if you are there to be scared, don't worry, Six Flags has the scariest Fright Fest in history ready for you this year! By 6pm if you are not in the mood to be haunted it is definitely time to grab the kids and head to a scare free zone. You can ask the workers where they are and they will direct you to them. By then the littles probably are pretty wiped out. My hubby usually stays in the scare free zone at the front of the park (by the funnel cakes) with my daughter while this Momma and her boys go head on into Fright Fest! Beginning at 6 p.m., things take a drastic turn with the Fright By Night festivities. Swarms of decaying zombies, crooked clowns, freaks of nature and monsters of the night emerge in The Awakening parade, and then Dr. Fright unleashes these horrors into the streets. As the night creeps on, guests can enjoy one of three new "Monstertainment" shows, a new haunted maze, and fresh takes on park classics. It all starts off with the parade and Dead Man's Party: Graveyard Rock – Dr. Fright and his friends take over a graveyard for Fright Fest's signature song and dance production featuring many new Halloween hits and dazzling special effects with the help of celebrity choreographer Ashle Dawson. It does take place in a new location in the Movietown Arena.
One of the new additions to Six Flags this year that our family loved was the VR coaster, Rage of the Gargoyles virtual reality coaster – As riders we used Samsung Gear VR powered by Oculus headsets to battle demonic creatures in the world's first interactive gaming VR experience on a coaster, Skull Mountain. This experience is exclusively for Season Pass holders, active Members, haunted maze pass purchasers and owners of the Samsung Galaxy S7, Galaxy S7 edge and Galaxy Note7. Must be at least 13 years old to wear Samsung Gear VR. Must be at least 44" tall to ride with an adult or 48" to ride alone.
You can also check out the new Bilkum, Burnham & Haugh's Side Show Spectacular where the World-famous Lizardman, Murrugun the Mystic and the beautiful sorceress Catalina Askew headline this jaw-dropping and heart-pounding freak show. The Donniker Bros. Worlds of Mirth – Dark and devilish clowns urge guests to step right up to this uproarious new performance packed with unseemly humor and ample shenanigans. Slash is also new, where gallows of humor meets unsettling, gory, hard rock violence as illusionists John Bundy and Morgan blur the line between reality and horror, premiering in Showcase Theatre. Suitable for mature audiences only.  My personal favorite was Cell Block 6 Haunted Maze!!!! You will be inside a prison on lockdown while it is overrun with strange and scary inmates desperate to break free. Guests wind their way through twisting corridors trying to escape before it's too late. There is an extra fee to participate in this one.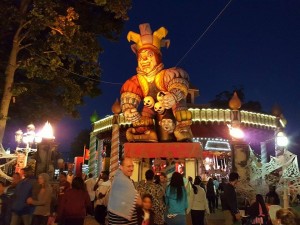 So gather up your family and friends and head to Six Flags Great Adventure for Fright Fest! You can find that six free scares, eight Monstertainment shows, the new Rage of the Gargoyles virtual reality coaster and the park's world-class thrill ride collection are included with park admission, Season Pass and active Membership. Seven haunted mazes require an additional fee. Fright by Night is not recommended for children under 12 and those who scare easily. The world's first fully interactive, horror-themed virtual reality coaster gaming experience, a new haunted prison maze and four new, devilishly entertaining shows including the world-famous Lizardman headline the biggest and scariest Fright Fest® season in history at Six Flags Great Adventure. Weekends and select days through October 31, families can enjoy all of their favorite roller coasters and thrill rides plus family-friendly themed attractions with Thrills by Day and terrifying mazes, scare zones and shows during Fright By Night.  Check out all about Six Flags here: https://www.sixflags.com/greatadventure
Disclosure: Diane Sullivan/3decades3kids is a Six Flags Great Adventure partner blog. All opinions are that of Diane Sullivan and do not reflect the views of the parent company represented. No compensation was given for this post. Information provided by Six Flags Great Adventure. A media preview invite is generally provided to our family to experience Six Flags first hand. Contact me at Diane@3decades3kids.net