I had seen the movie on television a while ago and thought it was pretty funny, but I had heard the musical was a little different, so I was not quite sure what to expect.
Sister Act on Broadway really was an entertaining musical from beginning to end.
Set in the early 1970's, this show really came through. As a catholic school girl for not only 8 years of elementary school, but also four years of high school, I really had quite a few chuckles throughout the show!
Watching the sisters go from quiet and subdued to rockin' with St. Mary was really quite entertaining!
Yet, Sister Act held up in the way of not offending anyone. It was very lighthearted.
Sister Act catches us from the very beginning where Deloris Van Cartier(Patina Miller) is a witness(by mistake) to her married boyfriend's crime of shooting someone. Deloris, a disco singer, is whisked away and put into hiding. A what better place to hide a cigarette smoking, risque woman? How about with a convent full of white as dove pure sisters.
The new Sister Mary Clarence(Deloris) and Mother Superior butt heads at the beginning. How can they not? But, as time goes on Sr. Mary Clarence friends the other sisters one by one and teaching them a whole other way to praise the Lord through song. Meanwhile the church they are associated with is up for grabs and ready to be sold unless the parish can come up with to outbid the buyers. Thanks to Sister Mary Clarence and her new spirit she brings to the church, things start looking up.
I honestly have to say , I loved this musical! The scenery was vibrant, the actors delightful and the music, songs and live orchestra carried the precision of fine tuned clock! The upbeat songs Fabulous Baby and Take Me To Heaven made it pretty difficult to stay still in your seat!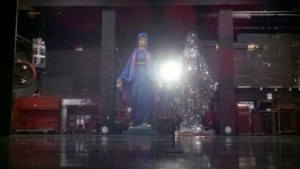 Bravo, Sister Act! Bravo!
As an extra treat, I was asked to stay afterwards for a great talk back session with eight of the cast members. My son Adam (BBookBoy.blogspot.com) asked if there was ever a complaint about offending any religious orders. He was told that to date they have not gotten one complaint! They also let us know that many many priests and sisters have attended the show and thought it was lighthearted and funny.
I directed a question to Sweaty Eddy(Chester Gregory) asking him what happens when things go wrong during the show. Everyone on stage agreed with him when he told me that you have to just keep going, no matter what happens. He also told me that if you were the cause, you would hear about it later, mostly in a joking fashion. I can only imagine! The cast members were so in sync, even during our chat! You could tell that they just gelled as a group. It was wonderful to see. Sarah Bolt was very sparkly and let us know how difficult it was to work to far from her home state. She also brought up something that I really never thought about before. The fact that she had to work on all the holidays because those were the busiest days. After speaking with the cast, I have a better understanding of what goes on before,
during and after the curtain goes up.
If you have a chance to see Sister Act The Musical, don't let it slip by,
you won't regret it. It's also fun for kids!
See you on Broadway at Sister Act The Musical!
For Tickets click here! For Kids Night On Broadway(Kids 6-18 go FREE with a paying adult) click here!
Kimberly Marable and Adam
Disclosure: Review tickets were provided by Sister Act The Musical.
All opinions are that of Diane Sullivan.