Just recently my family and I had the pleasure of attending Yo Gabba Gabba! Live! It's Time To Dance! at the Beacon Theatre in NYC. Seeing as the entire family loves Yo Gabba Gabba, we were all looking forward to the fun show. We knew it would be a blast knowing the theme was "It's Time To Dance".
The show really lived up from beginning to end starting off just like on TV, DJ Lance began the fun by opening up his boom box and before you knew it, Brobee, Foofa, Muno, Plex, and Toodee appeared. Within seconds, the audience of both children and adults were up on their feet and dancing along to the fun Yo Gabba Gabba songs we all love!
The fun really peaked when Razzle Dazzle superstar Leslie Hall and Hip Hop legend Biz Markie hit the stage.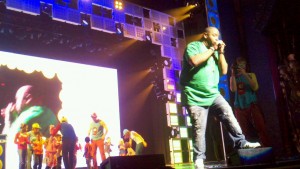 Hip Hop Star Biz Markie
DJ Lance glasses for everyone!


Our family sang and danced to great Yo Gabba Gabba hits like: We Like to Dance. The family favorite was There's a Party in My Tummy, where the aisles were filled with walking carrots, peas and other foods! It was so much fun! Also, a

t one point the Beacon Theatre was filled with leaves falling, followed by makeshift confetti snow! What a feeling for both children and their parents. Yo Gabba Gabba did not disappoint. If you can catch the It's Time To Dance tour, don't miss it! It's great family fun!

Disclosure: Review tickets provided by Yo Gabba Gabba.
All opinions are that of 3decades3kids/Diane Sullivan.