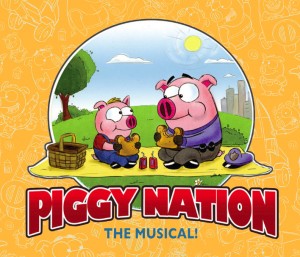 In a time when it's tough to find a child not carrying around some type of electrical
device to play with. it was wonderful to stumble upon this Off Broadway musical
Piggy Nation: A Day At Work With Dad.
Piggy Nation, based on the book, both written by Richard Rosser entertained the audience filled with
parents, grandparents and children. This musical features an original score filled with rock, blues, rap and
gospel influences that keeps the audience engaged throughout the musical.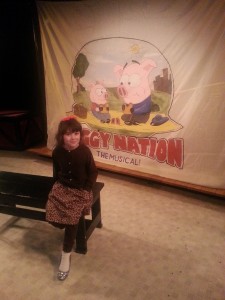 Piggy Nation: A Day At Work With Dad lets your imagination take the lead as the
actors gone animals lead us through a story that teaches children about values and helps
parents and adults to see the importance of good role models. Lessons of thoughtfulness,
honesty and courtesy are all highlighted during this a little over an hour musical.
Although props are few, talent is abundant!
We had the amazing experience of meeting up with author, Richard Rosser, who could not have been
any nicer. He spent time chatting with everyone and took the time to preview the book with my daughter before showtime. My son had a chance to interview him on his vlog:
TheKingsVlogs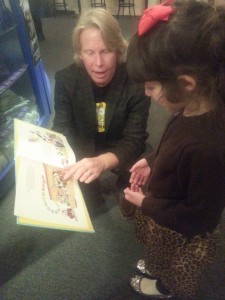 Author Richard Rosser previewing Piggy Nation with Em.
The Cast of Piggy Nation The Musical and author Richard Rosser.
Emily reading the book Piggy Nation after the show.
She read it again at bedtime…and this morning…
Enjoy Piggy Nation The Musical during Spring time in NYC!
We have a ticket giveaway coming up soon.
210 W. 50th Street (at Broadway)
3 Easy Ways to Buy Tickets
In person at the Snapple Theater Center box office
Disclosure: Review/Giveaway tickets provided by Piggy Nation The Musical.