Peter Rabbit Movie In Theaters Now! Also Read to the Bottom to Find Out WHERE to Meet Peter Rabbit and Grab a Pic With Him! 
Today is the day! Peter Rabbit has hit the big screen and believe me when I tell you that you will not not want to miss this one. I had my reservations about a Peter Rabbit movie. I mean, of course I absolutely adore that little mischievous bunny with the blue jacket. But a full blown movie? Could it actually hold up? It DiD!! Our entire family screened the movie together and each and every one of us loved it AND we ALL laughed! It was great for kids and great for adults as well. 
The Peter Rabbit movie brings us to meet Peter Rabbit of the present but delicately throws back to the past and I must admit I may or may not have had a bit of a tear in my eye when they flashed back to the original story. I remember spending hours upon hours playing Peter Rabbit with my two sons and acting out the story! Especially for my oldest son, Peter Rabbit was big on his toddler list…and the song..I think I sang it a zillion times. Well, anyway, back to reality! Because I had such a strong connection to the original Peter Rabbit books and stories I was not sure if I could enjoy the new wave of Peter Rabbit, but it happened and I (a true Peter Rabbit fan) LOVED the new movie! Check out more about the movie here: http://www.peterrabbit-movie.com/
I was beyond thrilled to have the chance to meet Peter Rabbit on the NYC mini Red Carpet Premiere thanks to Sony. Peter Rabbit was there and decked out in his blue jacket he has made famous! I also caught up with Mr. McGregor (Domhnall Gleeson) who rocked the role! Tweet me and tell me what you think of the movie at @3decades3kids #PeterRabbitMovie
The movie is filled with fun, laughs, adventure and LOVE! It will make you laugh! I dare you not to! PETER RABBIT™, the mischievous and adventurous hero who has captivated generations of readers, now takes on the starring role of his own irreverent, contemporary comedy with attitude. In the film, Peter's feud with Mr. McGregor (Domhnall Gleeson) escalates to greater heights than ever before as they rival for the affections of the warm-hearted animal lover who lives next door (Rose Byrne).  James Corden voices the character of Peter with playful spirit and wild charm, with Margot Robbie, Elizabeth Debicki, and Daisy Ridley performing the voice roles of the triplets, Flopsy, Mopsy, and Cotton-tail. Directed by Will Gluck from a screen story and screenplay by Rob Lieber and Will Gluck, based on the characters and tales of Peter Rabbit by Beatrix Potter, the film is produced by Will Gluck and Zareh Nalbandian, with Doug Belgrad, Jodi Hildebrand, Catherine Bishop, Susan Bolsover, Emma Topping, Rob Lieber, Jason Lust, and Jonathan Hludzinski serving as executive producers.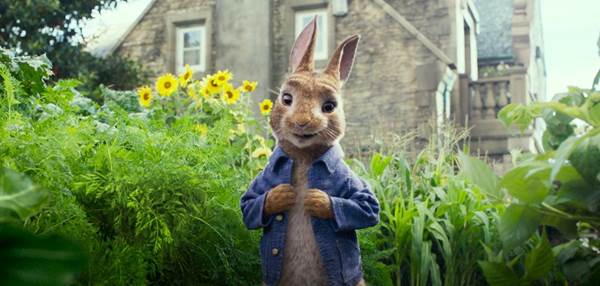 About Sony Pictures Entertainment
Sony Pictures Entertainment (SPE) is a subsidiary of Sony Entertainment Inc., which is a subsidiary of Tokyo-based Sony Corporation. SPE's global operations encompass motion picture production, acquisition, and distribution; television production, acquisition, and distribution; television networks; digital content creation and distribution; operation of studio facilities; and development of new entertainment products, services and technologies. SPE's Motion Picture Group includes film labels Columbia Pictures, Screen Gems, TriStar Pictures, Sony Pictures Animation, and Sony Pictures Classics. 

WANT TO MEET Peter Rabbit???  http://www.peterrabbit-movie.com/tour/ Peter Rabbit will be on tour around the US and ready to meet you! If you are in NYC you can meet him on SATURDAY FEB 10th!! at Sony Square! 
Disclosure: Diane Sullivan received a media invitation for the family to attend the NYC screening of Peter Rabbit and after party which included movie swag. All opinions (good or bad) are honest and my own. Contact me for collabs at 3decades3kids@gmail.com and @3decades3kids across all social media platforms (threedecades on Snapchat).