Our Home Made Valentine's Day Brownies! Sorry, They Are All Gone!
Okay, so homemade does not mean from scratch, just so we are clear. We hardly ever start from scratch since I have figured out along the way it's just a waste of valuable time on my side. There are some things I do make from scratch but that is because the box has not perfected them yet. As for brownies, the boxed ones are just perfect. They are the easiest baking gig ever and everyone loves brownies! I think these were Pillsbury brand. I usually buy whatever is on sale for a dollar! 
Of course it's fun to jazz up the brownies for different occasions, although they are great in any form. I found this beautiful heart shaped baking tin at Walmart for under five bucks. How can you go wrong?!! When you consider going into the bakery and spending three dollars each on ONE brownie or cookie it's SO much cheaper to just bake them at home! Also, a question for you. Do you ever still sample the batter? I grew up as a kid WAITING for a taste. Now it seems we are so much more educated that the simple tasting a batter has me toying with my brain on if it's worth the risk!!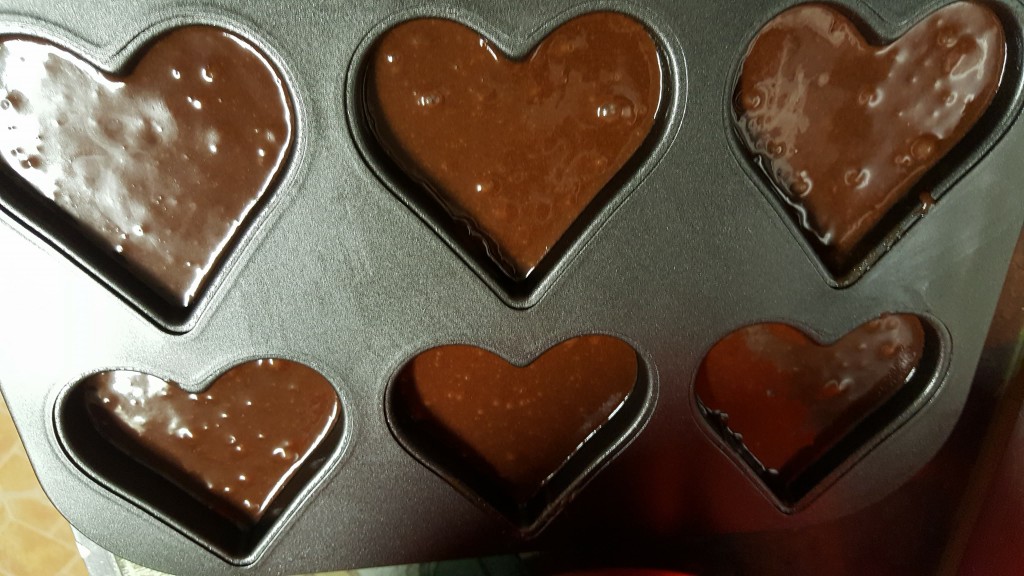 These look SO good in the pan even before they were baked! I always feel like a great baker when I see them looking all great like this but then I have to cross my fingers and HOPE for the best once they hit the oven, or in this case, the toaster oven! 
Once they were baked we tested out some ways to decorate them. They tasted DELICIOUS!! For some we cut out the heart and replaced it with a chocolate peanut butter one and let it set in the fridge ( there were NONE of those left by the time the final pic was taken). We also tried to make a cut out heart stencil and stencil on a powder sugar heart in the middle. I guess they would come out good with more practice or the proper stencil!! The winner of decorating was powdering and brushing on the powder sugar. Everyone agreed it was their favorite. So, the good news- They were easy peasy to make and decorate and they came out perfect! The bad news- There are NONE left! I can't blame anyone though, they were so good warm that I did not bother to save any. This was a total baking success and something that is easy and fun to do with kids in the kitchen! Happy Brownie Valentine's Day! 
Disclosure: This was a personal post and part of our #KidsInTheKitchen series. We love to share our baking fun with you. All opinions and ideas are our own and honest. Contact me at 3decades3kids@gmail.com for collabs. You can also catch us across all platforms as @3decades3kids