Monster Jam! It's Great For The Entire Family!
For the past seven years my family has had a tradition- that tradition is going to Monster Jam Live! It's something that we fell into by chance. Long ago we won tickets to Monster Jam and we went, we ended up loving the show! Emily was only four years old then- WOW! We have been Monster Jam fans for a long time! So, if you are looking for a super fun event that the entire family will enjoy? Look no farther than Feld's Monster Jam! Trust me when I say we have been fans for years and everyone loves it! Our family never misses Monster Jam.
We all have our favorite Monster Trucks and drivers! Our family recently attended  Monster Jam at Prudential Center in Newark, NJ! The day will filled with a four-wheeled extravaganza that featured heart-pounding racing and unbelievable freestyle driving! Did I mention the donuts? Okay, not the ones you eat, the kind where the monster trucks go around in massive circles as fast as they can! It's one of my favorite parts of the day.
Of course when we do go to Monster Jam we always start off at the Party In The Pits! If you go, be sure to add this on to your ticket! The Pit Party happens a few hours before the show. You are allowed down on the floor where the show takes place. As part of the Pit Party you can get a super up close look at the actual trucks that will be in the show that day! They are RIGHT THERE! You can take pics next to them and measure up to the massive tires! Another perk is that you get to meet all of the drivers! Each of the drivers stand in front of their monster truck. They will sign your program, tee or toy truck and/or take pics and answer any of your Monster Jam questions. It's really fun to chat with your favorite drivers and wish them luck face to face! 
In addition to seeing the trucks and meeting the drivers there are other things to do. There is a play zone for the kids where they can check out all the Monster Jam toys and toy trucks. There are different activities by most of the trucks. Emm's favorite is always the bean bag toss! It's mine, too! There is a coloring station where you can make a poster for your favorite truck, tattoos, and balloon animals, too! And the ground is total dirt so if you are going make sure you don't wear your best boots! 
Usually in between the Pit Party and start of the show we have time to grab some lunch and treats. There is bunch to choose from including regular stadium foods as well as cotton candy, ice cream, pretzels and popcorn! Once the show starts we pretty much like to stay close to the seats. If you miss a minute you may miss something super exciting! They do have an intermission half way through. During Monster Jam you get the chance to see your favorite monster trucks face off in different competitions. They start off with racing, donuts and then freestyle.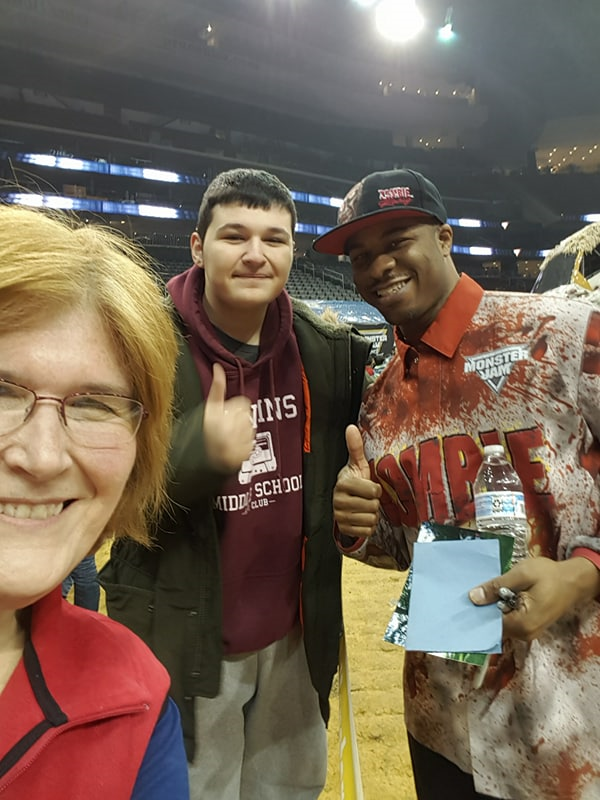 Freestyle competition is my favorite! During the freestyle the drivers have two minutes on an open floor to show off their skills. They drive the trucks over cars, and can do stunts and tricks with their trucks. Basically anything goes! 
This year the judging was in the hands of the fans! What an awesome experience! After each of the Monster trucks and drivers face off the fans have twenty seconds to place their score from 1-10. Following the twenty seconds the fans scores are tallied and announced. WOW! The FANS are in control. It was SO much fun! I could see all the people around me taking the job to heart, as we were. All you had to do was long into www.judgeszone.com on whatever device you had with you and score up or down from the 5.00. Easy Peasy!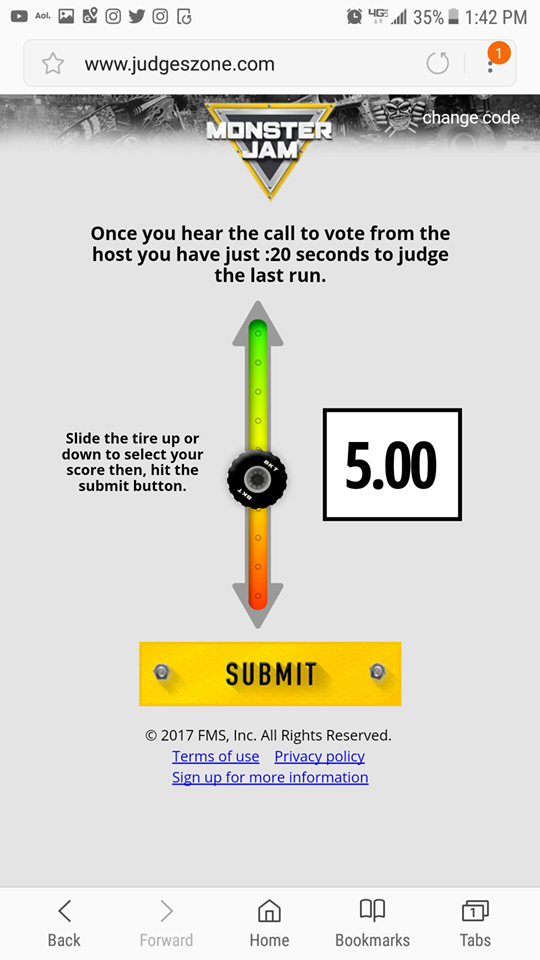 So grab your family and friends and head to the next Monster Jam! If you live in the NYC area the next one is at Met Life Stadium, East Rutherford, NJ- May 12, 2018. It's a fun day out for sure. Also, DON'T prejudge it if you have never been. You just may get the most pleasant surprise of your life! See you at Monster Jam! https://www.monsterjam.com/
Disclosure: Family Media invite provided. All opinions are honest and my own. Contact me at 3decades3kids@gmail.com for collabs and @3decades3kids across all social media platforms.