Giveaway: My Little Pony- Friendship Is Magic: Spring Into Friendship NOW on DVD! (2 winners)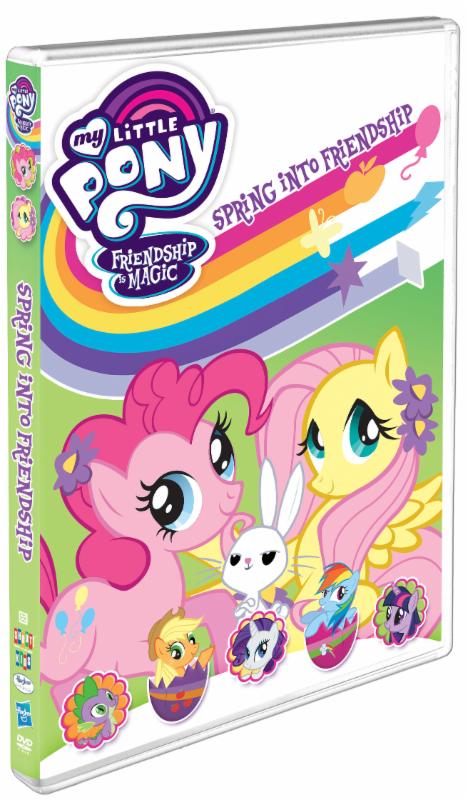 Calling all My Little Pony friends! You are not going to miss out on this! We just found the most adorable My Little Pony DVD- My Little Pony – Friendship Is Magic: Spring Into Friendship! New adventures are blooming! My Little Pony – Friendship Is Magic: Spring Into Friendship is coming to DVD on February 13 in the U.S. and Canada from Shout! Kids in collaboration with Hasbro Studios. Although we are still waiting for more snow, it's definitely not too early to start thinking about the Easter Bunny and his magical basket! Any MLP fan young or not so young would love to wake up to this sweet treat on Easter Morning! 
Big trouble is on the horizon when Twilight Sparkle is given only two coveted tickets to the most anticipated event in town! How will she decide which of her best friends gets to go with her? Discover the answer, and see four more amazing pony tales, as Twilight Sparkle, Spike, Pinkie Pie, Applejack, Rainbow Dash, Rarity and Fluttershy help usher Springtime into Equestria!
My Little Pony – Friendship Is Magic: Spring Into Friendship carries a suggested list price of $14.98 and is now available for pre-order at amazon.com and shoutkids.com.
Episodes Include:
The Ticket Master
Sisterhooves Social
Just For Sidekicks
Princess Twilight Sparkle, Part 1
Princess Twilight Sparkle, Part 2
Bonus Feature:
Sing-Along
About Hasbro
Hasbro (NASDAQ: HAS) is a global company committed to Creating the World's Best Play Experiences by leveraging its beloved brands, including LITTLEST PET SHOP, MAGIC: THE GATHERING, MONOPOLY, MY LITTLE PONY, NERF, PLAY-DOH and TRANSFORMERS, and premier partner brands. From toys and games, television programming, motion pictures, digital gaming and consumer product licensing, Hasbro fulfills the fundamental need for play and connection with children and families around the world. The Company's Hasbro Studios and its film label, Allspark Pictures, create entertainment brand-driven storytelling across mediums, including television, film, digital and more. Through the company's commitment to corporate social responsibility, including philanthropy, Hasbro is helping to build a safe and sustainable world and to positively impact the lives of millions of children and families. Learn more at www.hasbro.com, and follow us on Twitter (@Hasbro & @HasbroNews) and Instagram (@Hasbro).
About Shout! Factory
Shout! Factory, LLC is a diversified multi-platform media company devoted to producing, uncovering, preserving and revitalizing the very best of pop culture. Founders Richard Foos, Bob Emmer and Garson Foos have spent their entire careers sharing their music, television and film favorites with discerning consumers the world over. Shout! Factory's entertainment offerings serve up feature films, classic and contemporary TV series, animation, live music and comedy specials. In addition, Shout! Factory maintains a vast digital distribution network which delivers video and audio content to all the leading digital service providers in North America. Shout! Factory also owns and operates Shout! Studios, Scream Factory, Timeless Media Group, Westchester Films, Biograph Records, and Video Time Machine. These riches are the result of a creative acquisition mandate that has established the company as a hotbed of cultural preservation and commercial reinvention. Shout! Factory is based in Santa Monica, California. For more on Shout! Factory, visit shoutfactory.com.
GIVEAWAY ALERT! We have partnered with Shout Kids to give two lucky @3decades3kids readers their own copy of  My Little Pony – Friendship Is Magic: Spring Into Friendship! Enter on the rafflecopter below. Giveaway ends Feb. 28th at 11:59pm! Good Luck! USA/18+ Thank you for entering. Leave a comment on our Facebook.com/3decades3kids page about My Little Pony!
a Rafflecopter giveaway

Disclosure: Media copy provided. All opinions are that of my own and honest. Contact me at 3decades3kids@gmail.com for collabs.