Copper Creek Villas & Cabins at Disney's Wilderness Lodge
*Disney recently hosted our family including all flights, accommodations, park hoppers, dining, activities and swag items at Copper Creek Villas & Cabins at Disney's Wilderness Lodge- All opinions are my own and not influenced by being hosted.
Recently our family visited Copper Creek Villas & Cabins at Disney's Wilderness Lodge located on Bay Lake in the Magic Kingdom area. Being Disney Vacation Club members does have its own perks and staying at some of the most amazing properties on the planet is only the beginning. It is great to know that you do not have to own Disney Vacation Club in order to stay at one of the many resorts available at Walt Disney World. The newest DVC resort recently opened and we were thrilled to check it all out.
As a mom of three kids that span the age spectrum from ten to adult it seems that family time is more precious now than ever. There is nothing that lights up my heart more than seeing my family just being together enjoying life and there is no place better to do that than at Disney. From the moment we arrived at Copper Creek Villas & Cabins at Disney's Wilderness Lodge it seems like our daily realities just drifted away and smiles and laughter replaced them. We stopped in our tracks the moment the doors to the grand lobby opened and just looked up. You cannot help but notice the immense tree trunk pillars and the over fifty feet high totem poles. Our city life was in the past. We were about to take on an entire different feel for the next few days. Copper Creek is inspired by the railways of the Pacific Northwest which was no surprise to any of us who already knew about Walt Disney's love of trains.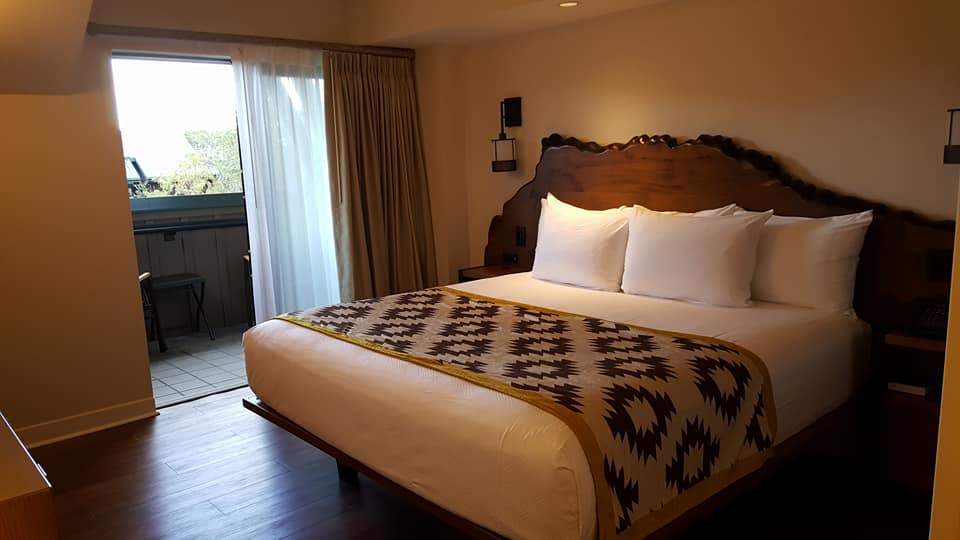 Our family was beyond excited to check out our two bedroom at Copper Creek Villas & Cabins at Disney's Wilderness Lodge. As the door opened we already loved what was in front of us. There was so much room for our family of five. Everyone claimed a space pretty quickly. My sons grabbed the room with two queen sized beds and private balcony. My daughter loves the sleeper couch so we all knew that was a done deal. Hubby and I definitely dug into the amazing wood headboarded king sized bed with private balcony and incredible jacuzzi. Each room has its own balcony, loved this!
Though out the room we found the constant theme of railways. There were actual railroad track metal above the kitchen area and even bed covers with map routes. Did I mention there were two hidden Mickey's in the room? I'm not going to tell you where they are and spoil all the fun. One is pretty easy to find, the other make take some investigating. You may think I am talking about the room a lot but that is only because we love staying inside the room as much as going to activities within the lodge. Being inside such an elaborate room makes you feel like you are home, so cozy, it's tough to leave.
When we visit Disney there is one thing we love to take advantage of and that is dining within our room whenever we can. Don't get me wrong, we do our share of dining out but we do eat in when we have the chance. That does not always mean cooking our own meals though. If someone in the family wakes up early, they are pretty much deemed the delivery boy! By the way, it's never mom! This time it was my oldest son. He ran down to the Roaring Fork and scooped up some breakfast platters for the family. Instead of everyone rushing downstairs and finding a place to sit at the eatery, we can eat in the comfort of our own room while taking our time to get ready. I'm actually in love with this idea and wish I had thought of it years ago. It's also a great perk to have a full kitchen when you return from the park and want to bake up some delicious cookies!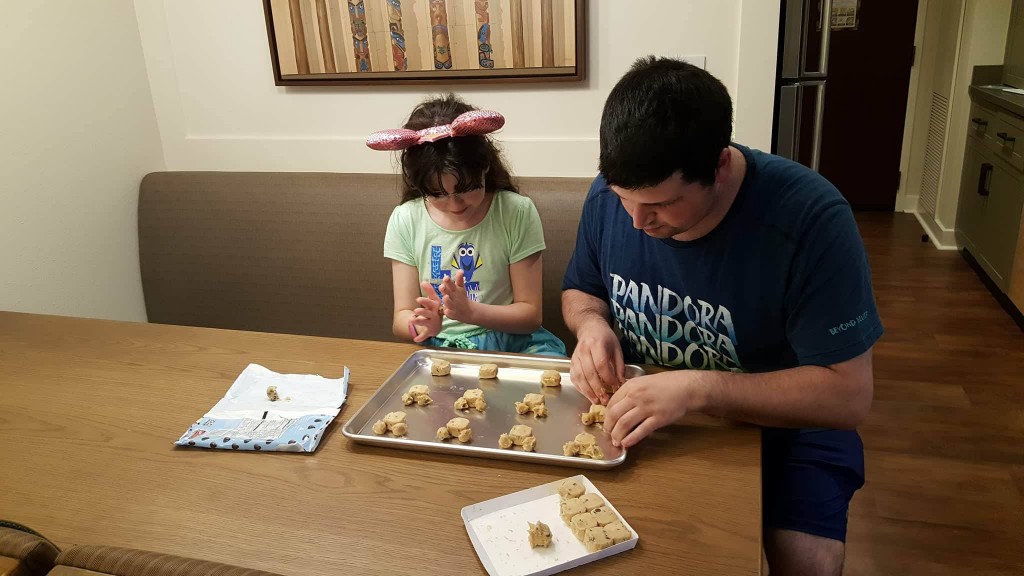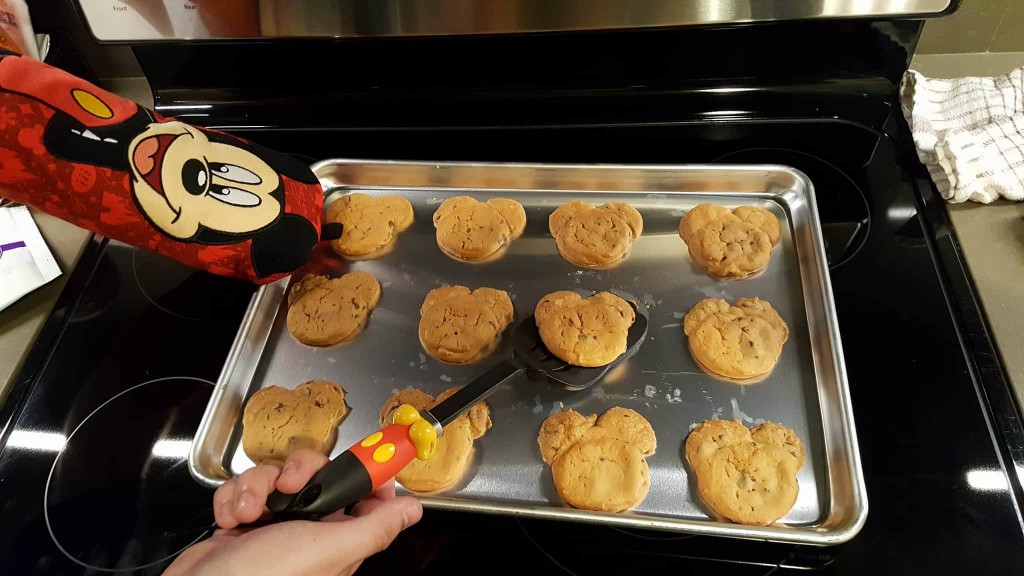 Saying we had a blast at Copper Creek Villas & Cabins at Disney's Wilderness Lodge does not even begin to describe our stay. There is so much to do at the lodge that you could just dig in and stay there without ever taking the boat over to Magic Kingdom. Once an hour the geyser, Old Faithful, goes off near the pool. Speaking of the pool there are two. The main pool has a waterslide and pool games for the family. The quiet pool has something super special. If you were a big fan of Catastrophe Canyon (The Back Lot Tour) then you will want to see this- They have one of the oil tanks next to the pool! Pure awesomeness!  There is also a game room with activities, boat rental, ping-pong and more. One of our favorite activities was making S'mores down by the lake at pre-movie time. Copper Creek supplies complimentary sticks and marshmallows, but a S'mores kit is also available for purchase. Both are fun but I would recommend buying the kit! If you are in wind down you can catch an outside movie, if it rains don't worry- they just show it indoors.
There are also some delicious dining choices besides the Roaring Fork. While at the resort our family dined at both Whispering Canyon Cafe' and Geyser Point Bar and Grill which both touted more delicious dishes than we could ever imagine. Keep an eye out for our upcoming post on both eateries. You won't be disappointed if you dine at either.  So if your family is looking for a great Disney resort to visit look no farther than Copper Creek Villas & Cabins at Disney's Wilderness Lodge. It's a boat ride away from the Magic Kingdom! But, if you love the resort so much that you never want to leave your room don't blame me- I knew it would happen! Here's to creating magical memories with the special people in our lives. There is no better place in the world to do that than Walt Disney World.
Check out our room tour at Copper Creek & Villas at Disney's Wilderness Lodge:

 Disclosure: Media invite provided by Walt Disney World. This stay, flights, food, park passes was hosted by Disney for our family.  All opinions are that of Diane Sullivan and do not reflect the views of the parent company represented. Contact me at 3decades3kids@gmail.com and @3decades3kids across all social media platforms. 3decades3kids.net