Netflix Launches Puss In Book: Trapped in an Epic Tale- Choose Your Own Adventure Now On Netflix and IOS
Being part of the Netflix Stream Team is pretty much like living in a dream. Recently our family was invited to cozy shop owned bookstore in NYC. We were not given much information about the event so that everything could be kept under wraps until today's big launch. As if Netflix is not already our go to place for everyone in our family, it seems that as of today it is getting even better. Netflix is unrolling "Puss in Book: Trapped in an Epic Tale" where your child is put in the driver's seat!
After being a classroom teacher for twenty years and a mom of three there is one thing I know about children, they love to be the ones making the decisions. Netflix will now give the children what they want, they will be the director of their own show. They will choose what happens next and how the story will progress. The best part of all is that they can go back and then choose the alternate choice and watch a completely different episode. There are so many choices.
So, here is how it works. Each episode is about 25-40 minutes long depending on the choices made. Puss in Boots is trapped inside of a fairy tale and only goes on based on the decisions made by the watcher. There are pause points where the viewer will be shown two pictures that look like storybook pages. They will have to choose one of the pages in order for the story to continue. What a fun adventure! You can watch this on your IOS device or on your tv- you will need your remote handy if you are watching on tv.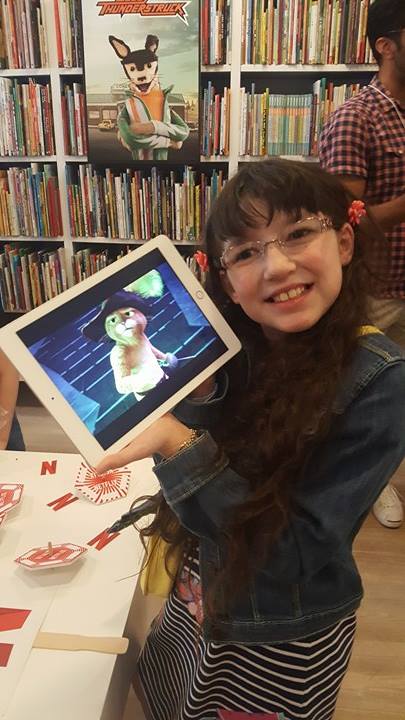 At the event the children were put to the test to see if Netflix had a winner on their hands. Judging by the smiles and laughter, I would have to say they do. Of course if you are watching it with more than one person will also be learning some life skills about compromise and taking turns. We were introduced to the ins and outs of this new interactive storytelling by Carla Engelbrecht Fisher, the director of product innovation at Netflix. School is out for summer. It's a perfect time to introduce your child to this new interactive Netflix experience. From one parent to another, you will definitely want to watch it with your child a few times. It's a great family activity as well as alone screen time.
Disclosure: Diane Sullivan is part of the Netflix Stream Team. All opinions are my own and do not reflect the views of the parent company represented. An invitation was provided to our family to the media event in order to facilitate this review. Thank you Netflix for always being so kind to us. Contact me at Diane@3decades3kids.net or @3decades3kids across all social media networks. #Netflix #StreamTeam