Available On Blu Ray/DVD May 7th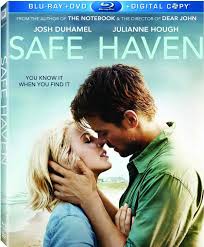 Everyone who knows me knows what a huge Nicholas Sparks fan I have been forever.
I am just spin into a ball of excitement when I hear that another Nicholas Sparks
It was no different when Safe Haven hit the big screen. If you
already have seen this movie or read the book, I am sure you will want to add this
Blu Ray/DVD to your collection. If you missed it when it
was in the theaters, you definitely will want to see it now in the comfort of your own home.
The Safe Haven Blu Ray/DVD includes special features that include deleted & extended scenes along with
It also includes Exclusive Features such as a Set Tour, Igniting the romance in Safe Haven, and
Josh Duhamel's lessons in crabbing. Sounds amazing, doesn't it?
I can't wait to cuddle up with my box of tissues and enjoy Safe Haven!
Josh Duhamel and Julianne Hough star in this spellbinding romantic drama based on the novel by best-selling author Nicholas Sparks (
The Notebook
). When a mysterious, beautiful woman named Katie (Hough), moves to Southport, North Carolina, she sparks the interest of the locals, especially Alex (Duhamel), a handsome widower. Although she is attracted to Alex, Katie is reluctant to trust him – that is, until a new friend (Cobie Smulders) convinces her to give Alex a chance. But before long, a dark secret from Katie's past threatens her happiness in this thrilling romance directed by Lasse Hallström (
Dear John
).

Disclosure:All information provided by Safe Haven/Twentieth Century Fox.
All opinions are that of Diane Sullivan. Email me at ELGeorgia@aol.com