Every time a Snow Day hits our house the kids cannot wait to
break out the boots and sleds. Of course the kids can only be
out in the frigid temperature for so long and the rest of the day
they also like to do special things. Hot cocoa is a must and most
of the time we bake cookies. Today we decided to go with Emily's
idea to make some snowball surprises. They are basically rice
krispies treats rolled into little balls and then covered in
either white frosting, sugar, or both!
This recipe is super easy. I changed some of the ingredients since my children
do not like walnuts or coconut, I changed it to vanilla icing. I was also planning
to get some little white sprinkles, but forgot at the store! Next time.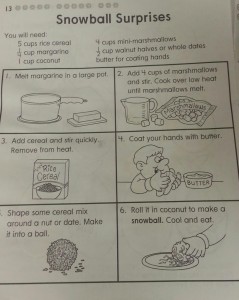 These are the simple directions.
They are quite easy to follow and the kids will love it.
It's a perfect Snow Day treat!
Tip #1 Tape aluminum foil to the table and spray it with
non stick spray. Also, after you mix the Rice Krispies/Marshmallow
melt, flatten it out on the foil and leave it a few minutes to cool and
form. It will work much better. I used a pizza cutter so all the balls would come
out close to the same size.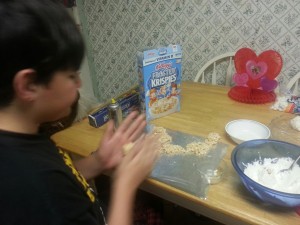 All ages enjoy this treat making recipe!
After shaping the balls you can dip/roll them into
icing or sugar or both!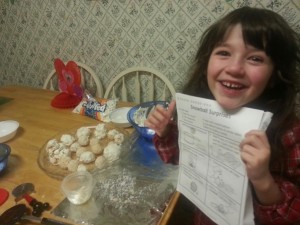 Emily loves bringing the learning to life at home.
Thank you Mrs. Zielinski for the great activity!
Diane Sullivan/ Email me ELGeorgia@aol.com