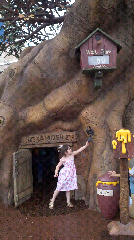 It's Day #2 of our vacation in Florida. I really love to stay on Disney property and especially at Animal Kingdom Lodge. It is one of my favorite resorts. This morning we checked out of Kidani Village and headed to its neighbor, Jambo House. We checked into the top floor of the lodge, the concierge or club level. The room is beautiful and so is the view and so are the amenities that accompany the club level.
Tomorrow I will post about our day at the lodge at club level, since we will enjoying a day just to hang back and relax.
As for today, it was our first day in the parks! Our first stop was to buy a 10 day base ticket. Since we only do one park a day, we always stick to a basic ticket with no extra features. Our family tradition is to try to spend our first and last park day at Magic Kingdom. We hopped on the Disney bus and headed to Magic Kingdom. Emily was ready to burst when she got a slight glimpse of Cinderella's Castle! I must admit, the entire family was pretty thrilled.
We headed directly to Main Street USA for a sight everyone in our family just loves, the castle. Even though it was raining we had to grab a quick photo and then we were off to Adventureland. Of course on the way we had a slight detour to stop and see Snow White. Emily could not resist! A sweet conversation between the two friends and we headed to Pirates of the Caribbean, one of my favorite rides and our first ride of the trip!
As luck would have it, minutes after we exited the ride the parade was about to begin! The scheduled parade did get cancelled due to rain, but a rainy day version took its place! What a super idea from Disney. No one was disappointed with the substitute!
The rest of our day was spent running between the raindrops! Some our favorite stops were the Haunted Mansion, Winnie the Pooh Ride, Space Mountain, Buzz Lightyear and The People Mover!
We ended our night by watching the Electric Night Parade then headed back to AKL for some dinner and fun in the lobby! Dare I say, this trip is already going way too fast!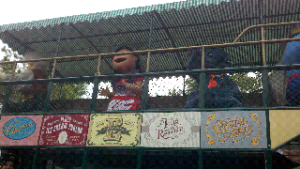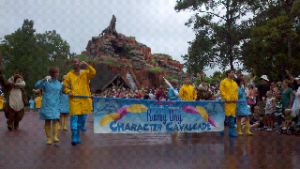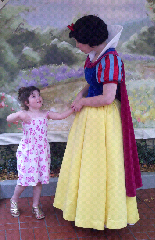 To have your own magical vacation check out:
www.waltdisneyworld.com
Disclosure: All opinions are that of 3decades3kids