Toys R Us Times Square NYC
Looking for a fun place to visit?
Most of us at one time or another have been to Toys R Us. If you are a family with children or grandchildren you are probably a frequent visitor, but you have never seen a Toys R Us like the one at Times Square NYC.
The store is impressive before you even enter it, with its outside "well-lit eye-catching" billboard above the huge revolving doors that lead you inside. Once inside you are immediately drawn to the enormous indoor ferris wheel that goes from the bottom floor all the way to the top! It has cars on it with everything you can think of from Mr. Potato Head to Cabbage Patch Dolls, Monopoly and so on! There is a car for everyone's taste.
As you venture upstairs be prepared to face some "larger than life" friends on display. You won't find these in your ordinary Toys R Us.
You can say hello to the T-Rex that almost touches the ceiling, a Giant Transformer, many Lego displays and more things then you can ever imagine. Boys can have a lot of fun in these sections filled with adventure!(girls enjoy it,too)
My daughter's favorite part of Toys R Us Times Square is the Barbie section or as she calls it, "Barbie World". I would have to agree with her. You can have a lot of shopping fun in Barbie's 4000 sq. ft. dollhouse! I think you can find every Barbie and accessory made for Barbie. There are two floors of Barbie fun! If you are not into Barbie, you can still enjoy many choices like: Cabbage Patch dolls, Disney Princess, Polly Pocket and more.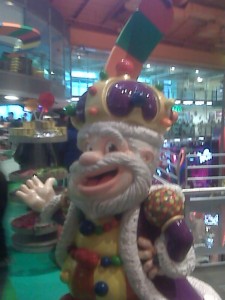 If you are starting to get a little rumbly for some candy, don't worry. There is a complete CandyLand themed section filled with "too many" candy choices! If you can't find what you are looking for there, you have a second shot at it by visiting the Wonka World Candy Section or Scoops R Us for some yummy ice cream!
Don't leave the store without saying hello to Geoffrey and even taking home a picture if you would like! Toys R Us Times Square is a fun place to shop or just to visit! If you are in NYC or the Times Square area, don't pass by Toys R Us. You won't believe what is inside!
For more information on Toys R Us Times Square and for Special Events held at the store please visit:
Please LIKE 3decades3kids on FaceBook: