LIVE with Regis and Kelly NYC
Most mornings do not go by without my family tuning in for at least a few minutes to LIVE with Regis and Kelly on ABC! My three children have grown up with Regis as a household name, so when my tickets arrived for the show I knew two of them would be taken my by sons. Today we headed to ABC Studios on 67th Street and Columbus in NYC. We had to be there bright and early, around 7am to be checked in, cleared and given our physical tickets to the show.
By about 8:30am the audience members were taken into the studio and seated. We were lucky enough to get the center section and not too far back. The studio is very small, so it really does not matter where you sit. Today's audience had about 150 people in it. Everyone that was age 18 and over was given a number on the way in, so they could participate in the drawing! While awaiting the beginning of the show, Michael Gelman(the producer) came out to greet everyone and give the studio audience some tips! Eventually everyone got the idea and just in time for the show to begin!
At exactly 9am, like magic, Regis and Kelly entered the LIVE studio and the audience went wild! Regis and Kelly have a way of bringing a smile onto everyone's face. The energy in the audience was unbelievable and the fun just went on and on. During each and every commercial break Regis and Kelly greeted, talked to, and had fun with the audience. They were very open to everyone's questions and conversations.
LIVE with Regis and Kelly always has on some interesting guests. Today's guests included William H. Macy and another couple from the World's Greatest Love Story. They were both great to hear from. William H. Macy's clip from Shameless was super!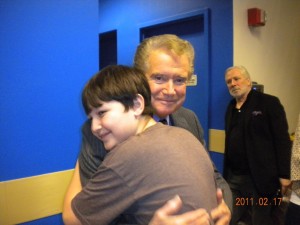 After the show we were lucky enough to have a meet and greet with Regis and Kelly. They could not have been any nicer, hugs included!
If you are in the NYC area or plan on visiting you can request free tickets by mailing your request at least 3 months in advance to:
"Live with Regis and Kelly" Tickets
Ansonia Station
P.O. Box 230-777
New York, NY 10023-077
Please choose 3 alternate dates. There is a limit of 4 tickets.
For more information on LIVE with Regis and Kelly please visit: