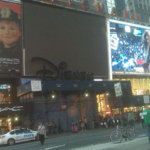 Disney Store Times Square NYC
As I was looking through my pictures, I actually could not believe that I did not write a post about the new Disney Store NYC. Since the first time I discovered the store was going to be located at Times Square, I could not stop peeking through the keyholes and trying to get a glimpse into what would become the Disney Superstore of NYC!
Back in August. This was taken through the round keyhole!
It's kind of funny now to take a look back at the Disney Store before it actually opened! Just thought I would share some of my "Behind the Scenes" pictures from before the opening. Enjoy!
October-One more month until the Grand Opening /Through the slats of the door!