As a mom of three, I find myself constantly behind the wheel of our car– whether it's dropping the kids off at school in the morning, picking them up in the afternoon, going grocery shopping, or covering whatever life throws at us, I feel like I spend more time driving than I do at home! And with the New York International Auto Show right around the corner (it's just two weeks away!) there's no better time  to highlight two of the cars that fit my "driving mom" lifestyle the most, the Nissan Sentra and Nissan Altima. We've also got a giveaway for two tickets to the New York International Auto Show– read on for more about the Sentra and Altima, and details about how to win!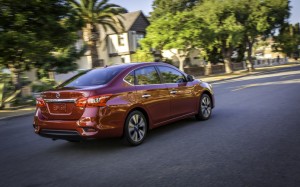 2016 Nissan Sentra
The 2016 Nissan Sentra continues the brand's "class above" style, and combines premium design and appearance with a roomy interior, advanced connectivity tools, and safety technology you can trust. The car features such exterior perks as a new front fascia, grille, fenders, hood and signature boomerang-shaped headlights, as well as chrome door handles and chrome window accents and available heated outside mirrors with integrated turn signals. On the interior side of things, the Sentra boasts a brand new style of steering wheel (similar to the Nissan 370Z design), one of the largest interiors in its class (meaning ample legroom and a great trunk capacity– both major perks in my book!) and a beautiful new TFT-type (Thin Film Transistor) LCD flat panel display with higher resolution than previous LCD screens. Finally, as far as safety, the 2016 Nissan Sentra offers some of the best technology available, including Forward Emergency Braking (FEB), Intelligent Cruise Control (ICC), Blind Spot Warning (BSW) and Rear Cross Traffic Alert (RCTA), all of which are available on the Sentra this year for the first time ever.
2016 Nissan Altima
The 2016 Nissan Altima builds on five consecutive years of sales growth with an extensive redesign for this year's model– including a new design, new driving feel. improved fuel economy, and a wide array of enhanced technology, connectivity, and safety features. The new Altima bears a brand new look that designers call "energetic flow," with the front and rear sections featuring totally new designs and sheet metal, redesigned headlights, a new lowered muscular front fascia, a new rear fascia and bumper, and a new grille and bumper. The 2016 Nissan Altima a host of safety features like radar-based Blind Spot Warning (BSW), Forward Emergency Braking (FEB), Intelligent Cruise Control (ICC) and Rear Cross Traffic Alert (RCTA), and the class-exclusive Predictive Forward Collision Warning (PFCW).
Both the 2016 Nissan Sentra and the 2016 Nissan Altima will be on display at the New York International Auto Show, which runs from March 25- April 3, 2016, and I am beyond excited to see these two car models there in person! I also hope I'll see you there– make sure to click the following link and enter the Rafflecopter giveaway through SheBuysCars for your chance to win 2 tickets to the New York International Auto Show and a $150 Gift Card! Good luck!
Disclosure Diane Sullivan/3decades3kids is a New York International Auto Show Ambassador.This is a sponsored post in conjunction with the ambassadorship and She Buys Cars. All opinions are honest and my own. Contact me at Diane@3decades3kids.net or @3decades3kids across the social media platforms.