KC Masterpiece Meet and Greet

Most of the people that know me already know that Keith Urban is one of my favorite country artists. I find his music incredibly inspiring and easy to listen to anytime of the day. He is actually one of our family favorites. When we were invited to the concert this year, we were all very excited about the experience. Keith was fantastic in concert last weekend in Philly. I love his new barless stage that allows the fans to "Get Closer". Keith Urban has a way of playing that makes you feel as it you are the only one in the room of thousands. His personality is vibrant and his music spectacular. He also sang some of my favorite songs, including "I'm In", "Put You In A Song","Days Go By", and my personal favorite"Till Summer Comes Around".
Last year I had the pleasure of meeting Keith Urban face to face at KC Masterpiece's Real Deal. My family was chosen and were invited to a personal Backstage BBQ sponsored by KC Masterpiece. Thousands and thousands of people were milliing about as our select group was whisked away to a special location where we could listen to Keith Urban's music, dine on delicious foods, that were enhanced by KC Masterpiece BBQ sauce, of course meet Keith Urban. The meet and greet was wonderful and Kieth Urban could not have been any nicer. He posed for pictures, chatted, and even was kind enough to give my sons some guitar picks. It's a memory I will treasure forever.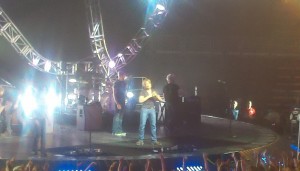 So, upon saying that, it's your chance to meet Keith Urban yourself. Never believe that it can't happen, because it can. At the Phila. concert I spoke to a few of the winners that had just returned from the meet and greet. They did nothing but rave about KC Masterpiece and the wonderful time that had meeting Keith Urban. The submitted a photo of themselves posed with a bottle of KC Masterpiece BBQ sauce on Facebook and were luckily chosen! There are still two chances left in the USA and you could be part of the fun.
It's simple to enter! If you are in the Kansas City, Missouri or San Jose, California area, or can get there in time for the concert, take a chance and enter!
KC Materpiece Meet Keith Urban!
All you need to do is find an active concert date and submit a picture of you with KC Masterpiece BBQ sauce! Good Luck and I mean it! It's a once in a lifetime experience. Don't miss your shot at it!
For more information on Keith Urban's Get Closer Tour:
Keith Urban on Facebook
Disclosure: Review tickets were provided, but did not influence this post.
All opinions are that of 3decades3kids.blogspot.com