Celebrate Mother's Day With Mama's Jewelry For A Perfect Gift!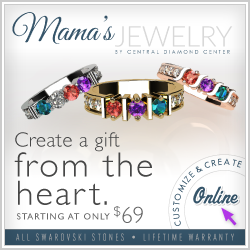 Who is ready for Mother's Day? I know that it's the one day around here I am guaranteed to be spoiled and really look forward to it. Most times I am the only one still standing when everyone else is sitting down to dinner or sitting watching TV. It is nice once in a while to be on the other side of that equation! Moms work hard 365 days out of the year, so why give them another predictable gift this Mother's Day? With the exquisite collection of mothers rings from Mama's Jewelry, you're bound to make this the most unforgettable Mother's Day yet! Each time she looks down at her ring, puts on her earrings or is asked about her necklace, she'll remember just how much she's loved.
Let's face it, Mom's like jewelry! Every year I love to receive a little box on Mother's Day especially when I know there is a piece of jewelry inside. Mama's Jewelry has been designing rings and pendants for moms for 30 years, and we have no intention of slowing down! Our company is committed to creating exceptional mothers pendants, rings and earrings at affordable prices.
A key benefit to shopping with us is our fast turnaround times. As soon as we receive your order, our CAD technicians and certified jewelers get to work designing and building your custom item. All of our processes follow strict quality control measures. Everything that comes from us has our seal of approval. If we wouldn't give it to our loved ones, we won't send it to you!
Most orders for mothers rings and pendants are able to be sent out within 3 to 5 days, reaching you about a week later. If you're shopping at the last minute, Mama's Jewelry will take care of you and ensure that you get a custom made item that looks like it took months to make!
For More Information Visit: https://mamasjewelry.com/
Disclosure: Opinions are honest and do not reflect the views of the parent company represented. Contact Diane at 3decades3kids@gmail.com and @3decades3kids Sample product code provided.