Now on blu-ray/dvd! "My Little Pony Equestria Girls – Legend Of Everfree"
We love pretty much anything My Little Pony around here and we adore the Equestria Girls! So when a new movie comes out it's a big deal in this house. Recently My Little Pony Equestria Girls Legend of Everfree was released on dvd. This is definitely a movie you are going to want to add to your MLP movie collection to watch over and over again. Our family has been enjoying My Little Pony Legend of Everfree!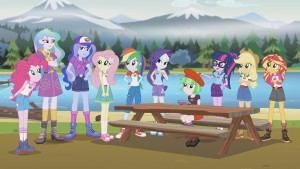 For pony fans ordering their copy directly from Shout Kids, a free poster is included. Copies of the film for sale in Walmart will include a pair of Twilight Sparkle barrettes!  Copies at all other retailers come with an adorable "Camp Everfree" sew-on camp patch.
What Could Be More Fun Than A Field Trip To Everypony's Favorite Camp? When Canterlot High School goes on a field trip to Camp Everfree, they're surprised to find a magical force is causing strange things to happen. Twilight Sparkle , with the help of the Mane 6 and especially Sunset Shimmer (who refuses to give up on her), must confront the dark "Midnight Sparkle" within herself and embrace her newfound magical abilities to save the beloved camp from closing down for good!
GIVEAWAY: One lucky 3decades3kids reader will have a chance to join the fun watching their favorite My Little Pony Equestria Girls in this new adventure! To enter please:
1. Like us on Instagram, like the photo on Instagram and/or comment. https://www.instagram.com/3decades3kids/
2. Like our page on facebook, like the picture and/or comment. https://www.facebook.com/3decades3kids/
Winner will be chosen Thursday November 17 th at 10pm and contacted via social media on FB/Instagram. Winner will have 24 hours to respond and claim prize. Good luck. 18+/USA only. Shout Kids! responsible for prize delivery.