Camelback Lodge and Aquatopia Indoor Waterpark- A Poconos Must Do!
Looking for a great family getaway in the Poconos? If you know our family we are always on the go and in search of great places where we can share fun and make memories. Just under two hours from NYC we were able to find this new gem that is newly opened. You may already be familiar with Camelback for its awesome ski resort or its summertime waterpark, Camelbeach. But you may not know that a massive lodge was recently opened that has so much to offer your family including an indoor waterpark, outdoor activities, dining, an arcade, pottery and much more. Splish! Splash! Eat! Play! Relax!
We started our trip by choosing a room. There are many choices that can accommodate from a small to large family. We are family of five and went with the basic room( double queen suite) that features two queen sized beds and a pull out sofa. There is also a microwave and fridge in the room so you can bring along some snacks and drinks. The room was big enough for our family and even had a balcony that overlooked the Camelback Ski slopes. I would love to have that room in the winter. It had a beautiful mountain view.
After checking in the first place we headed to was Aquatopia Indoor Waterpark! Our family could not wait to get there. We were super surprised at the grand size of the waterpark- it is even bigger than it looks in the photos. There were plenty of places to grab a chair and leave our towels, etc. After a quick walk around we all agreed to test out the Lost River! This jungle and temple themed tube float gives you the illusion of floating in an underground river. Lit up for LED lights and grand waterfalls, it definitely was a total win for everyone in the family!
Next stop: The Venus Slydetrap! So so so much fun! The Venus Slydetrap is a family raft that holds from three to six people. It's the only combination family raft ride of its kind in the world! The ride is a definite "Don't Miss", but be prepared to be swallowed and spit back into a plunge pool before it is all over! It definitely puts the thrill in thrillride waterslide! Glad I had my family surrounding me for the that one. Of course that were ribbing me the rest of the day from the screams I let out. Someone has to entertain them, right?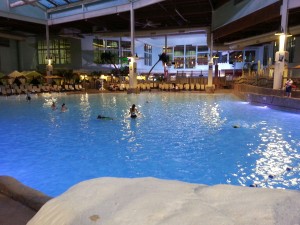 There are quite a few waterslides and thrillslides for the brave. Some of my sons' favorites were the Himalayan where you go head first on a mat, the Outa-Space-Race where you go feet first down an aquatube and of course their favorite was the Paradise Plunge where the floor drops out below and there you go!  Don't worry- there are plenty of other choices for people like me that want to just pretend they are on an island somewhere. There is a gorgeous wave pool, private cabanas, a swim up bar and a dedicated younger kids play area. There is literally something for everyone in this indoor waterpark.
If you are not the waterpark type you don't have to worry, Camelback Lodge has you covered! There are plenty of non-water activities waiting for you. There is a huge arcade filled with fun for all ages. Emily loved choosing and painting a piece of pottery which was fired in a kiln and picked up the following day! There is also mini golf, a lazer zone and a climbing wall.  In addition to that there is a spa designed just for kids! We did not have a chance to experience it all, but that is the great thing about Camelback Lodge- It's definitely a place you will want to visit over and over again. They even host birthday parties with special private party rooms available!
So, if your family is in need of a little unplugged time, this is a perfect place for you! Our family definitely created memories that will last, had a ton of laughs and just enjoyed being with one another without a lot of distractions! We can't wait to go back and see what winter has to offer. Camelback Lodge & Aquatopia Indoor Waterpark is located at the base of Camelback Mountain in Tannersville, Pennsylvania. The 453-suite lodge is coupled with the largest indoor family entertainment center and indoor waterpark in the Northeast. With Camelback Lodge & Aquatopia Indoor Waterpark complementing the existing seasonal outdoor waterpark, skiing, snowboarding, snowtubing, ziplining, treetops obstacle course, alpine mountain coaster and more, Camelback Resort offers more year-round excitement in one location than any other mountain resort in the country. Check out more about Camelback Resort here including room rates and deals. http://www.camelbackresort.com/ See you there!
Disclosure: Diane Sullivan received no compensation for this post. A complimentary room was provided for the purpose of this review. This review is part of our #SummerInPa Contact me at Diane@3decades3kids.net and everywhere else as @3decades3kids.