This Year's Macy's Thanksgiving Day Parade
With Skylanders' Eruptor!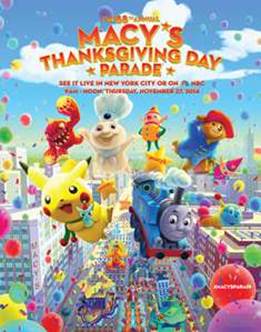 Every year one of the biggest days in NYC is when the preparations begin for the upcoming Macy's Thanksgiving Day Parade. The excitement builds the closer it gets while everyone waits to get a glimpse of the gigantic balloons and talent that will fill the streets on Thanksgiving Day. Our family stops everything Thanksgiving morning so we can all share in the fun of the big parade! This year we were very thrilled to hear the big news from Skylands!
Skylanders
, the popular kids video game that brings physical toys to life, is taking flight in the Macy's Thanksgiving Day Parade for the first time! Fan-favorite
Skylanders
character
Eruptor
will join the prestigious collection of balloons at the parade, marking a significant pop culture milestone for the franchise. I don't know about you, but our family loves Skylanders!! This will be awesome!
To re-create Eruptor's smoldering physique, artists used more than 40 gallons of florescent paint and five barrels of glitter! The live broadcast of the Macy's Thanksgiving Day Parade will begin at 9 a.m. all time zones on NBC. Here's a sneak peek of just what you can expect to see [above]. It's an artist's rendering, so you will have to tune in Thanksgiving morning to see the real thing, or join us the night before Thanksgiving for the inflation and of course AT the parade!