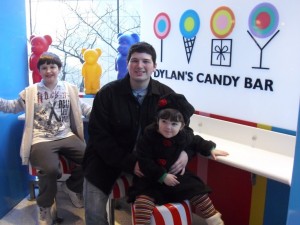 Dylan's Candy Bar NYC
Dylan's Candy Bar on 60
th
Street, NYC is a great place to visit for any age! It's like entering a "Candy World Paradise"!
When you enter Dylan's Candy Bar, it is like entering Willie
Wonka's
Chocolate Factory.
Chocolate fountain to the left, with your choice of graham cracker, rice
krispies
treat, or marshmallows there for the dipping! Quite a reasonable treat, too!
As you go around the ground floor, you soon have to choose. Should I go up the candy stairs to the ice cream shoppe, or down the candy stairs to a lower floor filled with even more treats?
We decided to go upstairs where we ordered a sundae with the w
orks! A few scoops of ice cream or your choice, gummy worms, m&m's, reeses, whipped cream and sauce! Wow, good thing there were five of us to share the fun!
We enjoyed our treat at a table filled with colorful gumballs and surrounded by walls covered in candy covered wallpaper. Did I mention the ice cream shoppe is surrounded by wall to wall windows! It is a bright and sunfilled happy place that will lift your spirits up high!
After our yummy sundae, we took a peek downstairs to find a full-sized tub
fi
lled
to the top with gumballs of every color! My little daughter wanted to jump right in for a gumball swim. We convinced her it was better to look at from the outside. We also found some delicious homemade fudge and many other choices of both candy, tote bags, pj's, and tees!
We made some choices and went back to the main floor for one more look around, to see Dylan's signature chocolate bunny, and to grab some more goodies for the way home.
Did I mention that we left with out pockets overflowing with candy? (well, really not our pockets…more like our candy-bags) We all cannot wait to get back to Dylan's Candy Bar!