This may not be exciting to everyone, but to an UGG lover, like I am this was quite an experience! The UGG store is located at 600 Madison Avenue, New York, NY. From the very first time I saw someone walking the streets of NYC carrying an UGG bag, I knew I had to find the UGG store and visit it! I did locate the store a while ago, have seen it from the outside, but the other night I finally got to take a look inside.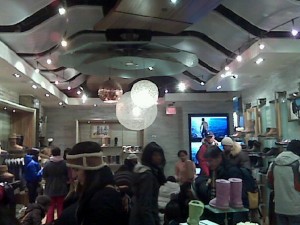 I was not always an UGG lover, but since getting my boots, I have certainly conceded to the UGG craze. They are the warmest, most comfortable boots that I have ever had on my feet. I hate to take them off when I come in the house because I know I have to get a heavy duty warm and comfy pair of socks out to take their place. Well, there was only one thing to do, right? Go to the UGG store and buy a pair of slippers! Then I would never have to worry, I could go from my boots to my slippers without a "chilly" worry.
The UGG store certainly lived up. I got there close to closing, so I did not have to wait in line for more than 5 minutes to get inside. The wait was okay, since it gave me a chance to check out all the window displays.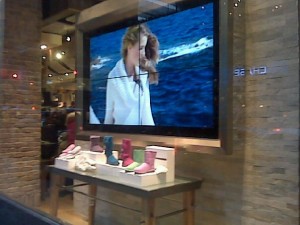 Store Window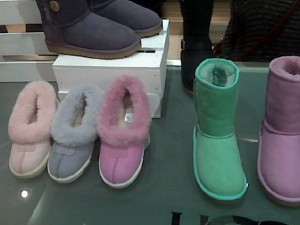 Kids' Section
Once inside the crowded, but managable store, it was easy to see why it was so crowded. UGGS everywhere! I spent the first few minutes just going from place to place checking out all the different kinds of Uggs that were available. They even had a limited edition Swarvoski crystal studded pair of Ugg boots with the Empire State Building on the side (only available in NYC at that location). Okay, so since they were encased in glass, I did not even bother to ask the price, but they really were gorgeous!
Swarvoski Crystal studded pair of Ugg Boots

After wandering around to the men's section and the seeing the children's choices, I made my decision about the slippers. I went with the Women's Rylan in Orchid Bloom! They were so comfy! So, now I can have my Uggs and have them, too…24/7! By the way, about 80 percent of the people in the Ugg Store were already wearing Uggs!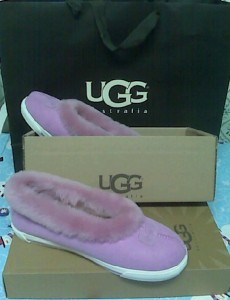 My Slippers 🙂
I loved my trip to the Ugg Store and honestly, I cannot wait to go back, even though I'm not sure when that will be! A girl can never have too many Ugg boots, right?
So, if you love Uggs and have a chance to visit the UGG store, don't miss it! You won't be disappointed!
http://www.uggaustralia.com/retailstores/concept-stores/
http://www.uggaustralia.com