Holiday Spectacular Event
Airs November 23rd on PBS
(After being a teacher for 20 years there was no way I could miss this PBS Kids event!)
Em loves to walk the red carpet and the blue carpet and the yellow carpet, too!
Not sure if that's a good or bad thing.
Looks like the man in the yellow hat left a little something behind.
We were treated to a monkey delicious dessert featuring Curious George's picture.
The Monkey Bar NYC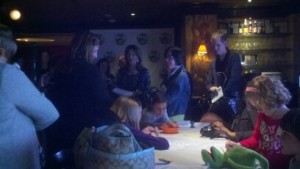 PBS Vice President
Of course, Curious George was on hand to greet and play with the children!
Disclosure: Event was provided by PBS Kids.