On our recent trip to Great Wolf Lodge Poconos we came upon a wonderful resort option called the Paw Pass! When making your room reservation or upon arrival you can add on the Paw Pass. It is quite a savings and really includes so many activities the kids will want anyway, along with some real perks!
The Paw Pass comes as a lanyard so you or your child can easily wear it! You will want to have it handy throughout your stay. ALL of the things pictured were included in the Paw Pass, along with some additional fun!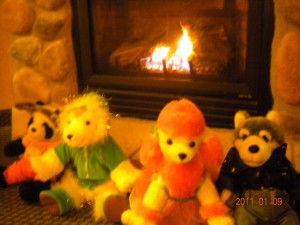 Emily's favorite part of the Paw Pass was getting to choose her favorite animal at the Great Wolf Stuffing Station! There were so many choices, but she went with the pink poodle. The outfit was not included, but very reasonable.
Our next stop on the Paw Pass was MagiQuest. For each pass your child can choose one Classic or Brilliant Wand and the pass also includes the MagiQuest game and book! The kids really had fun going from hallway to hallway on their quest!
For my older sons Gr8_Space was a little break for them to go and enjoy music and video games. It gave them a little time away from their little sister and a chance to just hang around. Admission to Gr8_Space is included with the pass.
Race Zone, also included, was a bunch of fun. Each of the children had a chance to enjoy two race events using a rental car and one custom made driver's license. My 11 year old, Adam had a great time racing!
We all had fun at the arcade. The kids were thrilled to find out they each would get 20 tokens for Northern Lights Arcade. My two sons played Deal or No Deal and won 400 tickets!
While the boys were in the arcade, hubby and I took Emily to get her small glitter tattoo! Since she has 2 brothers, she was able to get three tattoos! She traded them for extra tokens!
If you like tattoos and glitter, you will love the tattoos! They last a week, but don't get them done until you are finished with your water park fun. Emily chose a mermaid, a rose, and a heart. They were adorable!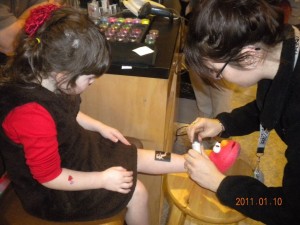 One last thing, don't forget your Paw Pass, even when you go to the water park. You won't want to miss out on the Souvenir Sipper with a drink and one Chipstix with your choice of seasonings at the Snack Bar. They sure are yummy!
If you are planning a trip to the Great Wolf Lodge, you should definitely take advantage of the Paw Pass! You won't regret it! Just leave enough time to GET everything that is included!
For more information on Great Wolf Lodge and the Paw Pass please visit:
Please LIKE 3decades3kids on facebook at