Day 3 of our Disney vacation was especially wonderful. We checked and settled into our 6th floor room at The Animal Kingdom Lodge. Since we have been Disney Vacation Club members since 1997, we are always ready to try something new. This year we made a reservation for the top floor, the
Kilimanjaro Club Level with Concierge Service of Jambo House.
This is one fine secret hiding within the confines of the Disney property.
The Kilimanjaro Club Level, nestled under the thatched roof on the top floor.
Our specialty treatment began the moment we said we were checking into the Club level. We were taken out of the line and escorted by a Disney hostess up to the 6th floor where there was a private check in desk just for the use of the ten rooms on the top level.
We were set up with our room and also any reservations we had in mind. We were also reminded of the extra offerings only available on the Concierge Level. We felt so pampered and relaxed that we decided to give up a day at the parks just to take in the atmosphere and perks of the 6th floor, which also has a special elevator key that only allows guests of the ten rooms to use.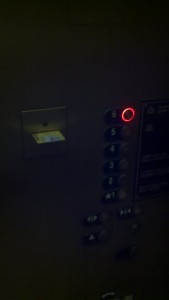 Key to the 6th floor.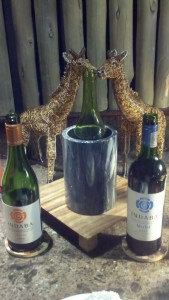 There are different rooms to choose from out of the ten, but whatever one you choose, you will not be disappointed.
Staying on the Concierge Club Level, you wake up to the newspaper at your door and the scent of breakfast and coffee nearby. Steps from your room you can enjoy a continental breakfast in your personal 6th floor lounge. But, that is not the end of the dining for the day. Something is waiting for you from 7am-10pm. Delicious snacks, samples from Boma and Jinko were served in abundance. We even had the chance to sample some delicious wines imported from Africa.
Turn down service was provided every night and really added that special touch to the evening. Returning to the room to find chocolates in the form of ostriches and giraffes, a chocolate Animal Kingdom Lodge heart, and mints were just delightful to all the senses.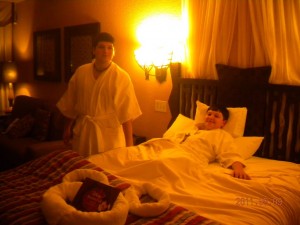 You can also enjoy soft robes for your use during your stay, along with other specialties refreshed into your room each day.
The only problem I found with staying on the 6th floor is that you may never want to leave it. The concierge service is top notch and you are always referred to by name.
To book your own magical Disney Vacation check out:
Disclosure: All opinions are that of 3decades3kids