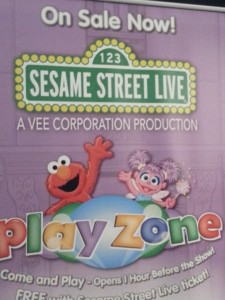 Recently our family was invited to
Sesame Street Live at Madison Square Garden, NYC.
Being a Kids Club Thirteen Ambassador and a Sesame Place Ambassador Blogger
keeps me around these furry Sesame Street characters quite often.
We could not wait for the new show, Elmo's Super Heroes!
Our day started by arriving an hour before show time to enjoy the
Play Zone which is included free with your ticket. My daughter
loved getting an up close sing and dance along experience with some of her favorite
Sesame Street characters. She also enjoyed sitting in big bird's nest, dancing at
Abby's Dance Studio and visiting Mr. Hopper's Store among the many other activities.
High Fiving Ernie during the Play Zone preshow.
As for the show, it was awesome as usual. If you have a little one, you definitely should
get to the Sesame Street Live show at least once during the magical years.
The price on children's faces when they see the characters come out is just priceless.
We loved the theme of this show which featured the Fabulous Five as they try to help
Super Grover get his Super-ness back!
Each Super Hero highlights a different healthy idea. Personally, I thought that Oscar's segment was
hilarious as he claimed that it was the worst day of his life learning all about keeping teeth healthy!
My daughter loved how Abby Cadabby was called Glitter Girl!
Sesame Street Live's Elmo's Super Heroes is a very high energy and interactive musical show.
You and your child will be singing and dancing along to all the fun!
If you have a chance to see any of the Sesame Street Live shows, don't let it pass you by!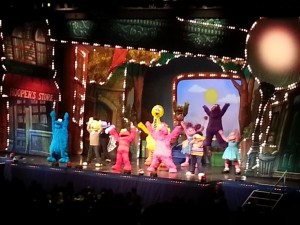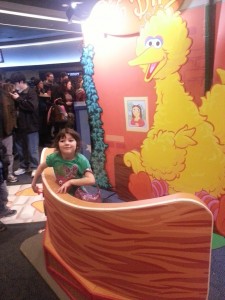 Inside Big Bird's nest at the Play Zone.
Testing out Big Bird's feet!
Disclosure: Review/Giveaway tickets provided by Sesame Street Live/Madison Square Garden.
All opinions are that of Diane Sullivan. Email me ELGeorgia@aol.com
Facebook.com/3decades3kids Twitter @3decades3kids: