We all love to go to see a movie and come out feeling better than we went in. I really am not the boxing type, so I was a little bit on the fence when I heard about Real Steel. I knew my husband and sons would love it off the bat, but I did have my own doubts about it. My family and friends attended the screening of Real Steel. It did not disappoint.
Hugh Jackman stars at the washed up boxer with little hope. Meanwhile he has lived his life without being in care of his young son. One day he gets a call that his son's mother has passed away and he has to step up as the father.
Father meet son. Son meet father. Although, Charlie(the father), still trying to figure out a way to come out on top, deals when it comes to his new taken on son and tries to make it worth his while. The son, being an avid boxing fan, suspects something is going on, but takes the ride.
ATOM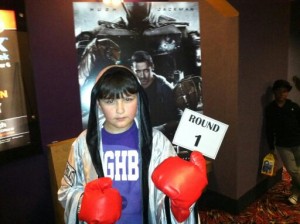 ADAM
And so the story begins as they get to know each other and the father tries to put his life back on track.
This movie takes place in the future, well actually, the not too far off future, where boxing is done by high tech robots.
Hugh Jackson fights for more than winning at boxing in this movie.
As he readies Atom (a robot who saves his son) a reconstructed robot, for the big boxing match.
I must admit that I really did enjoy this movie and the underlying story of a dad and son that end up trying to win more than a boxing match.
You may want to grab a few extra napkins when you go for the popcorn, there is big tissue alert! You will walk out of this action packed heart warming story, feeling good!
Real Steel is directed and produced
by Shawn Levy("Night at the Museum" and "Date Night"). It stars Hugh Jackman, Evangeline Lilly, Dakota Goyo, Anthony Mackie and Kevin Durand. The IMAX Experience has been digitally re-mastered, including image and sound quality with crystal clear images, laser aligned and theater geometry to equal the world's most immersive movie experience. Real Steel is in theaters and IMAX now. Don't miss out!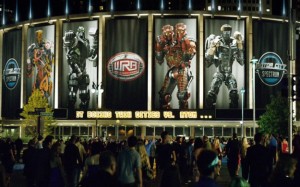 Disclosure: Review and Giveaway Tickets provided by IMAX and Real Steel.
All opinions are that of 3decades3kids.blogspot.com and Diane Sullivan.