To me there is really nothing more precious that a
little girl playing dolls.
Since I have been a boy-mom for many years, it is a little bit different to see all the pink and dolls in our house over the past four years, since Emily came along.
She is a total girlie-girl and loves to play dolls and dress up, so when I heard about
Dollie&Me
I knew it would be a perfect choice for her.
From the moment the Dollie&Me box arrived in the mail my 4 year old daughter was hooked. Dollie & Me dolls are designed by the Alexander Doll Company, Inc., the same designer and manufacturer of Madame Alexander dolls. The 18 inch dolls have beautiful flowing hair for easy styling (which we do a lot of around here), jointed bodies, and sleep eyes.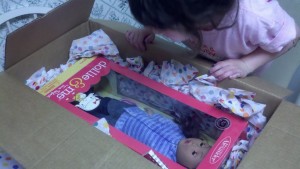 My daughter loved the doll immediately and
could not wait to free her from the box!
The matching outfits made especially for the Dollie&Me
(or your favorite 18 inch doll)
fit her perfectly and were great quality.
I am always in search of a better quality clothes in lieu of, as I call them, one wash clothes!
Sweet Heart Rose for Dollie&Me is a line that includes beautiful party dresses, tunics, fantasy dresses, and comfy PJs. It also includes hair accessories, handbags, jewelry and toys for both girls and their 18 inch dollies.
I won't lie and say that Emily does not have a lot of dolls,
but I will say that she loves how the Dollie & Me is posed into a sitting and standing position so easily. She loves how she can brush and style the dolls hair and how
her dollie and her can wear the same adorable outfits!
I am happy that it is not a frustrating experience and that can make any little girl and mommy smile! Emily and her new friend have been pretty much inseparable since she arrived. The doll and her matching clothing are very fashionable and super-adorable! They are also moderately priced. I would recommend Dollie & Me to anyone that is looking for a lovely and fashionable friend for a special little girl.
I have a feeling we will have many more Sweet Heart Rose Dollie&Me outfits, handbags and jewelry in our house in the near future! And that will be a good thing!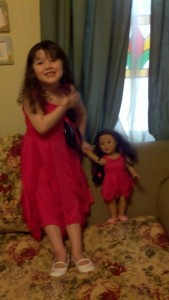 Dollie & Me (dolls- as one featured in this review)are available in many department stores including
Kohl's, Sears and online.
Sweet Heart Rose for Dollie & Me (apparel shown in this review)
is available exclusively at Dillard's and online at dillards.com and macys.com
You can also enjoy a world of games and activities and shopping online at:
Disclaimer: Special thanks to Dollie&Me for providing materials to review.
All opinions are that of 3decades3kids