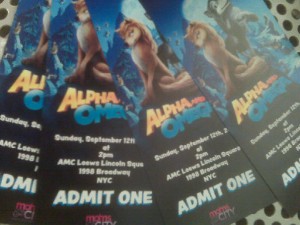 Alpha and Omega
NYC Screening Premiere
e were lucky enough to be invited to the Alpha and Omega NYC screening premiere at the Lincoln Square 13.
We really did not know much about the movie
before arriving at the theater, although we had a pretty good idea of the story line from all of the televised commercials.
When we arrived to the theater we were greeted with a smile. My children were happy to have their hands filled with Alpha and Omega wearable ear
s, posters, 3d r
ulers, crayons, activity books, word searches, coloring pages, etc! If that wasn't enough, everyone was treated to an Alpha and Omega popcorn and soda/water pack! Once everyone was in the theater and seated we had the pleasure of having the movie introduced by Ken Katsumoto (producer) and another producer. They wished us all a "great movie"
and before you knew it the show was on. Everyone had on their 3D glasses and we were ready for the fun to begin!
The story is very family friendly and a lot of fun for all ages. My sons are 19 and 11, my daughter is 3 and they all enjoyed the film.
super an
d the story very entertaining.
Alpha and Omega represent the two rival groups of wolves in a conflict over territory. The movie is centered around Kate (an alpha) and Hum
phrey (an omega). It is a movie filled with fun, love, jokes, excitement and is just good family fun!
If you are looking for something fun to see at the movies this weekend don't miss "Alpha and Omega 3d"! Enjoy! Alpha and Omega 3d opens September 17th nationwide.